China, Jamaica vow to enhance friendly partnership
China, Jamaica vow to enhance friendly partnership
Chinese Vice President Xi Jinping has arrived to Jamaica for an official visit. On Thursday, he met Jamaican Governor-General Kenneth Hall. Both sides vowed to further enhance the China-Jamaica friendly partnership for common development. Before Jamaica, the Chinese vice president wrapped up a three-day visit to Mexico.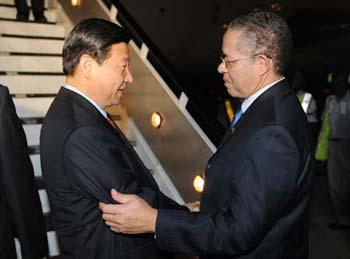 Chinese Vice President Xi Jinping (L) is greeted by Jamaican Prime Minister Bruce Golding upon his arrival in Kingston, capital of Jamaica, on Feb. 11, 2009. (Xinhua/Huang Jingwen)


In a written statement released at Kingston Airport on Wednesday, Xi Jinping said his visit aims to strengthen friendship, expand consensus, deepen cooperation and promote common development.

Xi Jinping expressed China's appreciation for Jamaica's welcoming policies toward China. For his part, Golding expressed gratitude for China's generous help to his country over the years.

During talks with Jamaican Governor-General, Kenneth Hall, Xi Jinping said China values its relationship with Jamaica and is ready to expand cooperation in various fields.

Xi Jinping also met with the Presidents of the Jamaican Senate and the House of Representatives. He called for expanding exchanges between the top legislatures of the two countries. The two presidents said Jamaica is willing to draw on China's experiences in economic development. They also expressed the hope that the two sides would further enhance exchanges in fields such as parliamentary affairs, culture and sports.

On Saturday the Vice President joined Prime Minister Bruce Golding for the ground break ceremony of the Convention Centre in Montego Bay to be built by the Chinese contractor, Complant with financial assistance from Chinese Government.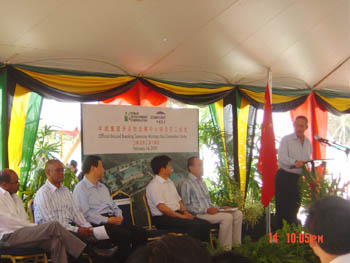 Jamaican Prime Minister Bruce Golding making a speech during the ground breaking ceremony to thank the Chinese Vice President and China for the support watched on by other dignitaries including Jamaican Minister of Tourism Hon. Mr. Bartlett.


Jamaica is the second leg of Xi Jinping's six-nation trip. He will also visit Colombia, Venezuela, Brazil and Malta. The Chinese vice president said China is ready to work with Latin American and Caribbean countries to build a partnership of comprehensive cooperation.
Xinhua And WorldTravelOnline