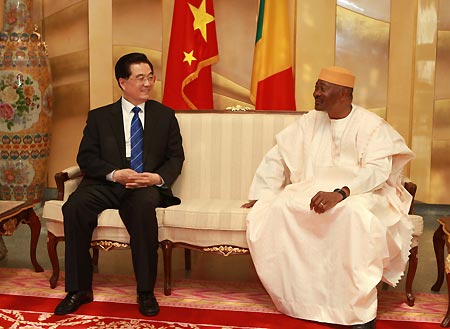 Chinese President Hu Jintao (L) meets with Malian President Amadou Toumany Toure in Bamako, Mali, on Feb. 12, 2009.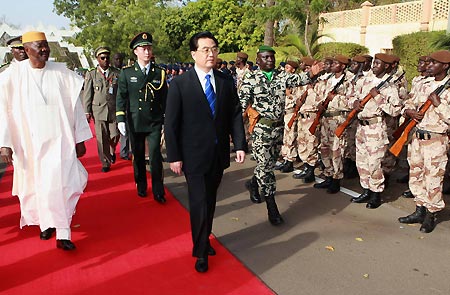 Chinese President Hu Jintao (C) and Malian President Amadou Toumany Toure (L) review the honor guard during a welcoming ceremony in Bamako, Mali, on Feb. 12, 2009.

Visiting Chinese President Hu Jintao and his Malian counterpart Amadou Toumany Toure met here Thursday for talks on deepening bilateral ties.

Chinese diplomats said Hu and Toure were expected to exchange views on strengthening the friendly and mutually beneficial cooperation between the two countries.

Before the talks started, Hu, who arrived here earlier in the day on his first state visit to the west African nation, attended a welcoming ceremony hosted by the Malian president.

The two leaders are due to witness the signing of bilateral cooperative deals and meet the press after their talks, according to the itinerary.

China and Mali have enjoyed healthy and steady development of bilateral ties since they established diplomatic relations in 1960. In recent years, bilateral cooperation has been expanded in economy, trade, culture, education and health.

Two-way trade between China and Mali registered 200 million U.S. dollars in the first 10 months of 2008, up 58 percent over the same period 2007.

Hu, who is on a five-nation tour, flew in from Saudi Arabia, where he had concluded a state visit. He will also visit Senegal, Tanzania and Mauritius.