Assistant Foreign Minister Meets with Members of Kenya's Middle-level Diplomats Workshop
Assistant Foreign Minister Meets with Members of Kenya's Middle-level Diplomats Workshop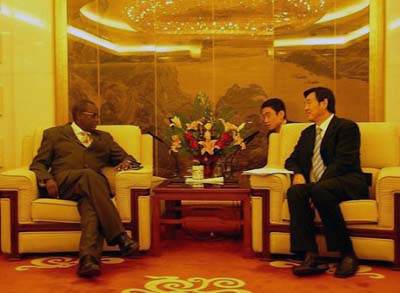 On January 16, 2008, Assistant Foreign Minister Zhai Jun met with the members of Kenya's middle-level diplomats workshop led by the deputy president of Kenya's foreign affairs university. Zhai made positive remarks on China-Kenya relations and expressed admiration to the Kenyan government for its adherence to the one-China principle. He said that China expects to work closely with Kenya to strengthen the all-round bilateral cooperation and push forward the friendly cooperative relations between the two countries. Zhai also briefly introduced the relations between China and Africa and the implementation of the outcome of the Beijing Summit of the Forum on China-Africa Cooperation as well as China's experience of reform and opening up.

The Kenyan side thanked the Chinese side for holding the workshop and spoke highly of China's development achievements and the bilateral friendly relations. He noted that Kenya and other African countries should learn from China's experience and strengthen cooperation with China in such fields as infrastructure and telecommunication. He also extended welcome to Chinese diplomats to Kenya.
ForeignMinistry
Please
contact us
in case of Copyright Infringement of the photo sourced from the internet, we will remove it within 24 hours.