Chinese President Hu Jintao and Liberian President Ellen Johnson-Sirleaf agreed on Thursday to make common efforts to implement the consensus the two sides have reached on bilateral cooperation.
In their talks held shortly after Hu's arrival in Monrovia from Cameroon, the two leaders said that with concerted efforts by both sides, China-Liberia relations will be pushed to a new high.
Hu said that the Chinese and Liberian people enjoy a traditional friendship and that relations between the two countries have been developing rapidly since the resumption of diplomatic ties in 2003, with high-level exchanges increasing, mutual political trust enhanced, and trade and economic cooperation making headway.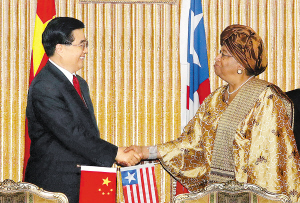 Chinese President Hu Jintao (L) meets
with his Liberian counterpart Ellen Johnson-Sirleaf in Monrovia,
capital of Liberia, Feb. 1, 2007
The projects of inter-governmental cooperation were conducted smoothly, and the cooperation in the fields of education, health and human resources has yielded fruitful results, said the Chinese president.
China and Liberia have also maintained sound consultation and cooperation in international affairs, he said.
Hu said that Chinese soldiers' participation in the UN peacekeeping mission in Liberia has contributed to peace, stability, reconstruction and development in Liberia.
The Chinese president expressed appreciation for the unswerving adherence by the Liberian government and parliament to the one-China policy and their support for China's great cause of national unification.
He put forward a four-point proposal on facilitating further cooperation between China and Liberia:
-- Promoting exchanges between government departments, legislatures and political parties, as well as people-to-people contacts between the two countries, so as to lay a solid socio-political foundation for their friendship;
-- Conducting pragmatic cooperation in trade and economy, sparing no effort in carrying out the ongoing cooperation projects and encouraging businesses to engage in various forms of cooperation;
-- Jointly pushing for the implementation in Liberia of the measures announced by the Chinese government at the Beijing summit of the Forum on China-Africa Cooperation;
-- Expanding exchanges in the humanistic field and strengthening cooperation in education, health, culture, personnel training and international affairs to safeguard the common interests of the two countries and other developing nations.
For her part, Johnson-Sirleaf said Hu's visit to Liberia is of great historical significance.
The visit indicates that China is a friend of Africa and Liberia, she said.
Johnson-Sirleaf thanked China for its support and aid for Liberia's reconstruction and development.
Liberia hopes to learn from China's experience in its economic development, and to conduct cooperation with it in the fields of trade, investment and infrastructure construction, she added.
Liberia will strive for the success of cooperation projects with China to benefit its people, she said.
Johnson-Sirleaf reiterated the Liberian government's adherence to the one-China policy and voiced support for the development of relations between China and Africa.
After their talks, Hu and Johnson-Sirleaf witnessed the signing of seven documents on cooperation in economy, technology, health, education and agriculture.
The two leaders attended the inauguration of a China-aided malaria prevention and treatment center.
Also on Thursday, Hu met with Liberian Vice President Joseph Boakai and parliament leaders on pushing forward the Sino-Liberian ties, expanding and deepening cooperation of mutual benefit between the two countries.
The National People's Congress (NPC) of China and Liberia's parliament once had a history of friendly exchanges, the Chinese president said.
The exchanges and cooperation between the legislatures of the two countries are conducive not only to the mutual understanding and friendship between the two peoples, but also to the development of bilateral relations, said Hu.
He said the NPC is willing to expand exchanges and cooperation with the Liberian parliament to contribute to the development of bilateral relations.
Boakai, who is also the senate president, said President Hu came with the friendliness of the Chinese people.
Liberia hopes to broaden and deepen the all-around cooperation with China, he said.
House Speaker Edwin Snowe said that Liberia adheres to the one-China policy and is dedicated to boosting Liberia-China relations.
Isaac Nyenabo, president pro tempore of the Senate, said Chinese enterprises' investment in Liberia is of great benefit to Liberians.
He added that the exchanges and cooperation between the Liberian and Chinese legislatures have helped legislative work in Liberia.
Liberian lawmakers also thanked China for assistance in the fields of agriculture, health and sports.
President Hu, who arrived here from Yaounde, the capital of Cameroon, is on an eight-nation tour of Africa that will also take him to Sudan, Zambia, Namibia, South Africa, Mozambique and Seychelles.