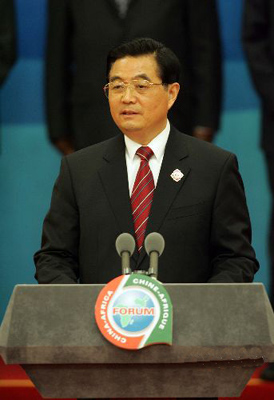 Chinese President Hu Jintao on the Beijing Summit of the Forum on China-Africa Cooperation


Chinese President Hu Jintao starts his state visit to eight African countries including Cameroon, Sudan, Namibia, South Africa, the Seychelles, Liberia, Zambia and Mozambique from January 30 to February 10.

Cameroon is the first station of President Hu Jintao's state visit. Hu's visit to Cameroon will consequentially be a great move to the China-Cameroon bilateral relations after the Beijing Summit of the Forum on China-Africa Cooperation.

China and Cameroon established diplomatic ties on March 26, 1971. The China-Cameroon relations have become increasingly mature, with bilateral political friendship enhanced, economic and trade cooperation expanded and human resources exchanges deepened.

The China-Cameroon bilateral trade volume between January and November 2006 reached US$338 million, up 101% over the same period of the previous year. China and Cameroon also maintain close cooperation and exchanges in such fields as culture, education and health.

Relative news--Foreign Ministry Official Introduces President Hu Jintao's Visit to Africa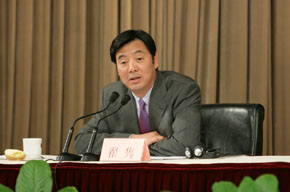 Assistant Foreign Minister Zhai Jun is introducing President Hu Jintao's visit to Africa.
On the morning of January 24, 2007, Assistant Foreign Minister Zhai Jun, at the invitation of the International Press Center, held a briefing to Chinese and foreign journalists as well as information officers of foreign embassies in China, introducing President Hu Jintao's upcoming visit to Africa. Director General Liu Jianchao of the Information Department of Chinese Foreign Ministry hosted the briefing.

Zhai said that President Hu Jintao, at the invitation of Presidents of Cameroon, Liberia, Sudan, Zambia, Namibia, South Africa, Mozambique and Seychelles, will pay a state visit to those eight African countries from January 30 to February 10, 2007. It will be the first state visit paid by President Hu this year as well as another major event in the history of China-Africa relations following the Beijing Summit of the Forum on China-Africa Cooperation. The visit is of great significance to enhancing the friendly cooperation between China and the eight countries and consolidating and developing the traditional friendship and cooperation between China and Africa.
Zhai noted that the eight countries to be visited by President Hu are located in different sub-regions of Africa and fairly typical. The priority of the visit is to implement the outcome of the Beijing Summit and comprehensively promote the pragmatic cooperation between China and Africa. During the visit, President Hu will exchange in-depth views with the leaders of the eight countries on how to strengthen the traditional friendship and enhance the all-round cooperation between China and Africa under the new situation and enrich and deepen the new type of strategic China-Africa partnership.

Zhai pointed out that the eight countries enjoy friendly relations and mutually beneficial cooperation with China. All those countries attach importance to developing relations with China, adhere to the one-China principle and maintain close consultations and cooperation with China in international affairs. He expressed confidence that the visit will further consolidate and deepen the traditional friendship, increase the mutual understanding and trust and boost the mutually beneficial cooperation in various fields between China and those countries and promote regional peace and stability.

Concerning the visit to Cameroon, Zhai said that China established diplomatic ties with Cameroon in 1971 and Cameroon is an important economic and trade partner of China in central Africa. The economic and trade cooperation between the two countries has kept growing in recent years. The bilateral trade volume between January and November 2006 reached US$338 million, up 101% over the same period of the previous year. China and Cameroon also maintain close cooperation and exchanges in such fields as culture, education and health. Cameroon has become the destination country of Chinese tourists. During the visit, President Hu will hold talks and meetings with leaders of Cameroon including President Biya, attend the celebration activities jointly held by the two countries and visit the projects receiving assistance from China.

With regard to the visit to Liberia, Zhai said that the China-Liberia relations have developed rapidly since the two countries resumed diplomatic ties in 2003. President Sirleaf paid a state visit to China and attended the Beijing Summit in late October and early November 2006. Both countries have conducted fruitful cooperation in the fields of economy and trade, culture, education and health. The bilateral trade volume continues to rise and reached US$375 million from January to November 2006, up 155% over the same period of the previous year.

During the visit, President Hu will hold talks and meetings with President Sirleaf and other Liberian officials, attend the opening ceremony of the China-Liberia Malaria Prevention and Treatment Center and visit the Chinese peacekeepers in Liberia.

Talking about the visit to Sudan, Zhai said that the relations between China and Sudan have maintained stable growth since the two countries established diplomatic ties in 1959. President al-Bashir has paid two visits to China. The bilateral economic and trade cooperation enjoys rapid growth in recent years. The bilateral trade volume reached US$2.9 billion from January to November 2006. Sudan has become the third largest trade partner of China in Africa. The remarkable achievements of bilateral cooperation in the fields of culture, education and health have enhanced the all-round development of the friendly relations between the two countries. During the visit, President Hu will hold talks with President al-Bashir to exchange opinions on the issues of common concern including the bilateral relations and regional situation.

On the visit to Zambia, Zhai said that China and Zambia enjoy a profound traditional friendship and the bilateral relations have grown steadily since the two countries established diplomatic ties in 1964. The bilateral cooperation in such fields as economy and trade, agriculture, education, health, culture and tourism has achieved fruitful results in recent years. The bilateral trade volume increases rapidly and reached US$310 million between January and November 2006, up 15% over the same period of the previous year. China has become the third largest investor to Zambia and the more than 180 businesses in Zambia invested by China cover a wide range of areas including agriculture, communications and infrastructure construction. During the visit, President Hu will hold talks and meetings with President Mwanawasa and other leaders and attend the opening ceremony of the Zambia-China economic and trade co