The Chinese and Greek governments on Friday agreed to promote tourism cooperation for the Olympic Games.
Shao Qiwei, director of the China National Tourism Administration, and Greek Tourism Minister Fanny Palli Petralia signed the agreement to strengthen exchanges and the training of hospitality employees.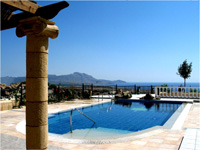 Petralia said Greece, which hosted the 2004 Olympic Games, had experience of successful tourism promotion. In 2004, Greece hosted 18 million foreign tourists, up 15 percent from 2003. The foreign currency income from tourism in 2004 was 13 billion Euros, up 14 percent.
Tourism is pillar industry in Greece. In recent years, tourist numbers have exceeded the Greek population, straining the infrastructure and environment, which, Petralia said, the government was trying to deal with.