Chinese tourists are getting more comfortable traveling further and further away as the country's outbound tourism market matures.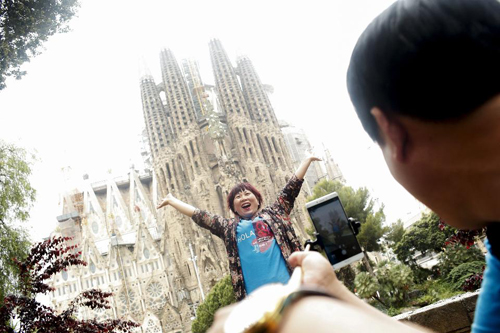 Chinese tourists take pictures before a visit to the Basilica of the Holy Family in Barcelona.
Chinese tourists are getting more comfortable traveling further and further away as the country's outbound tourism market matures.

As I wrote previously, according to the latest research results from my institute, COTRI, 2016 saw a total of 136.8 million instances in which a citizen of Mainland China crossed the country's border, a 2.7% year-over-year growth rate from 2015.

But unlike in years prior, less than half of these trips ended in Greater China (Hong Kong, Macau and Taiwan). The rest of the world registered 70.1 million arrivals, 51.2% of all trips and an 11.7% increase compared to 62.8 million trips in 2015.

Comparing 2015

In 2015, many countries saw enormous growth rates; Japan more than doubled arrivals and other countries like Thailand and Sri Lanka reached almost 100% increases.

In the Middle East, Egypt and Turkey welcomed more than 60% more Chinese tourists. And many European destinations saw similar developments, with smaller countries like Norway, Croatia, Austria and Finland all growing by more than 40% YOY.

Traditionally popular destinations like Germany or Switzerland also enjoyed more than 30% increases in arrivals. The United States managed a growth rate of 18%, in line with Australia but below the United Kingdom and New Zealand.

A different picture in 2016

Last year painted quite a different picture. None of the 60 major destinations COTRI constantly tracks reached an annual growth rate of 60% or more in 2016.

The countries leading the pack are Nepal and Vietnam with 56% and 51% growth respectively, both recovering from losses in 2015. Smaller European countries are still attracting more—mostly individual—travelers from China, with Georgia, Bosnia & Herzegovina, Iceland, Norway, Poland and Serbia managing increases of more than 40%. Rising are as well are destinations as diverse as Chile, Egypt, South Africa, and Mexico, each growing by more than 30%.

Major European destinations, however, suffered — especially in the second part of the year. Terrorism scares and refugees kept many safety-conscious Chinese from Spain, Italy, France and Greece, which all suffered double-digit percent losses. Germany was able to rely on a larger group of business travelers who are less likely to cancel a trip because of safety concerns or inconvenience and as such, managed to end 2016 with only a small loss in Chinese arrivals.

The European Union is already working on selling the continent's diversity, as well as repairing the image of Europe as a safe destination, by becoming the first regional partner of ITB China this year. Next year the EU-China Tourism Year 2018 is supposed to bring more Chinese visitors to the many different destinations in Europe.

Turkey has announced a China-Turkey Year of Tourism 2018 as well. The motivation is obvious: In 2016, Turkey lost the largest amount of Chinese tourists with arrivals dropping by 47% compared to the year before.

The Year of China-Canada Tourism 2018 on the other hand is meant to leverage the increased direct air links between the two countries. There's also an interest from China to develop closer ties with Canada as U.S.-China relations are strained under President Donald Trump. Also of note for the North American country: Canada overtook the U.S. for the first time in 2016 with a 23% YOY increase of Chinese tourist arrivals.

China's neighboring countries

In absolute numbers, Mainland China's neighboring countries still saw the biggest gains in 2016. Thirty-five percent growth meant two million more Chinese visitors to South Korea, and 700,000 more for Singapore. Japan saw only 28% more arrivals last year, but following the huge increase in 2015 this still translated into almost 1.5 million more arrivals.

Thailand is at the bottom of this group in terms of growth rates, but a 10% increase still meant 8.8 million arrivals, the highest number of Chinese visitors to a destination (not including Hong Kong SAR and Macau SAR).

In 2017, the show goes on. More than six million Chinese were expected to travel abroad for the Chinese Lunar New Year, and a recent report looks to confirm the predictions. UnionPay, which issues China's most ubiquitous credit card, saw transactions jump by 40% this year when compared with the Chinese New Year period in 2016 especially in Asia-Pacific, Europe and Northern America.